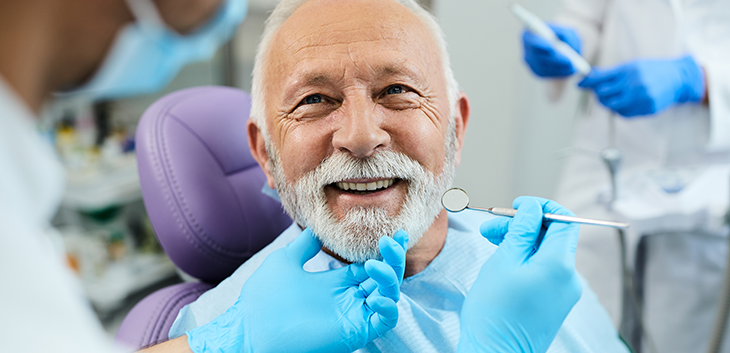 Transform Your Smile: Expert Insights on Dentures – Your Questions Answered!
Whether you're considering dentures for yourself or a loved one, or simply curious about this common dental solution, you're in the right place. Dentures have evolved tremendously over the years, offering comfort, functionality, and aesthetics that were once unimaginable.
In this comprehensive guide, we'll answer all your burning questions about dentures. From understanding why people opt for them, to the nitty-gritty of living with dentures, and the undeniable benefits they offer – we've covered it all. Our aim is to provide you with the knowledge and confidence to take the next step in your dental health journey.
Why Do People Get Dentures?
Dentures have been a trusted solution for replacing missing teeth for many years. People turn to dentures for a variety of reasons, reflecting the diverse needs and experiences of each individual. The decision to get dentures often stems from the necessity to address tooth loss, which can be due to various factors including decay, gum disease, injury, or even genetic conditions. The impact of losing teeth is profound, affecting not just the aesthetics of a smile but also fundamental functions like chewing and speaking. Dentures serve as a practical solution to restore these crucial abilities.
Understanding Tooth Loss and Its Impacts
Beyond Cosmetic Concerns
The issue of tooth loss transcends mere cosmetic concerns. It can herald a host of health problems. When teeth are missing, individuals often find it challenging to chew food properly, which can lead to nutritional deficiencies and gastrointestinal issues. Moreover, tooth loss can cause a misalignment of the remaining teeth, leading to difficulties in maintaining oral hygiene and potentially causing further dental decay and gum disease.
Jawbone Health and Facial Structure
Another critical aspect often overlooked is the impact of tooth loss on jawbone health. Teeth stimulate the jawbone, keeping it robust and healthy. Without this stimulation, the jawbone can begin to deteriorate, leading to changes in facial structure and potentially causing further oral health complications. Dentures help mitigate this by providing the necessary stimulation to maintain jawbone density and support the facial structure.
The Emotional Aspect of Tooth Loss
Restoring Confidence and Quality of Life
Losing teeth can be a distressing experience, profoundly affecting an individual's self-esteem. It can lead to reluctance in smiling or participating in social activities, impacting personal and professional life. Dentures play a significant role in restoring not only the function and aesthetics of teeth but also an individual's confidence. They enable people to smile without hesitation, speak clearly, and engage socially without the self-consciousness associated with missing teeth.
The Psychological Impact
The psychological impact of tooth loss and the subsequent restoration of dental function with dentures cannot be overstated. It's about reclaiming a part of one's identity and restoring a sense of normalcy and wellbeing. For many, dentures provide a renewed sense of self and open up opportunities for interactions that they might have previously avoided.
In summary, people opt for dentures for a multitude of reasons. Whether it's due to the physical implications of tooth loss, the desire to maintain a balanced and nutritious diet, or the emotional and psychological need to regain lost confidence, dentures offer a comprehensive solution.
What Happens When You Get Dentures?
Getting dentures is a process that involves several steps to ensure they fit comfortably and function effectively.
Initial Consultation and Impressions
Your journey to dentures begins with a consultation at our clinic. Here, we discuss your needs and take impressions of your mouth. This step is crucial for creating dentures that fit perfectly.
The Fitting Process
Once your dentures are ready, we'll schedule a fitting session. During this session, we'll make any necessary adjustments to ensure your comfort and the functionality of the dentures.
Adjustment Period
Adapting to dentures takes time. Initially, they may feel strange, but with our guidance and your perseverance, you'll soon find them becoming a natural part of your daily life.
What Can You Eat With Dentures?
One of the most common concerns about dentures is diet. Here's what you need to know:
Starting with Soft Foods
Initially, it's best to stick to soft foods. This helps you adjust to chewing with dentures without causing discomfort or dislodging them.
Gradually Introducing Varied Textures
As you get more comfortable, you can start introducing different food textures into your diet. We recommend doing this gradually to avoid any discomfort.
Foods to Avoid
There are certain foods, like sticky candies or hard nuts, that can damage dentures or cause discomfort. We'll provide you with a comprehensive list and tips on how to enjoy a diverse diet while protecting your dentures.
What Are the Benefits of Dentures?
Dentures offer numerous benefits, significantly improving the quality of life for those who need them. These benefits extend beyond mere aesthetics, impacting various aspects of health and well-being.
Improved Appearance and Speech
Restoring Your Smile
Dentures play a crucial role in restoring the natural appearance of your smile. They are designed to look like your natural teeth, filling in the gaps caused by tooth loss. This restoration goes a long way in boosting confidence and self-esteem, which is often affected by missing teeth.
Enhancing Speech Clarity
Teeth play a significant role in how we pronounce words. Missing teeth can lead to speech difficulties, affecting both personal and professional interactions. Dentures help in correcting these speech issues by providing the necessary structure for clear articulation.
Enhanced Chewing Ability
Enjoying a Varied Diet
The ability to chew food properly is vital for digestion and overall health. Dentures allow you to enjoy a wider variety of foods, which might have been difficult or impossible to eat with missing teeth. This means you can maintain a balanced and nutritious diet, crucial for your health.
Comfort and Functionality
Modern dentures are designed for comfort and functionality. They are custom-made to fit your mouth, allowing you to chew efficiently without discomfort or the fear of them slipping out of place.
Long-Term Oral Health Benefits
Maintaining Jawbone Structure
One of the less obvious but critical benefits of dentures is the support they provide to your facial structure. When you lose teeth, your jawbone can begin to deteriorate over time due to lack of stimulation. Dentures help in maintaining the shape of your jaw, preventing this deterioration.
Preventing Teeth Misalignment
Missing teeth can lead to the shifting of the remaining teeth, leading to misalignment and further oral health issues. Dentures fill the gaps, keeping the remaining teeth in their proper place and maintaining overall dental integrity.
Enhancing Overall Quality of Life
Beyond these physical benefits, dentures contribute significantly to the psychological and social well-being of individuals. The confidence to smile without hesitation, to engage in social activities, and to speak without self-consciousness can profoundly impact one's quality of life.
In conclusion, the benefits of dentures extend far beyond the basic functionality of replacing missing teeth. They offer a comprehensive solution that enhances your appearance, health, and overall well-being. If you're considering dentures, remember that they are more than just a dental device; they are a step towards a happier, healthier you. Schedule a consultation with our clinic today to explore how dentures can benefit your specific needs and lifestyle.